Last year I read a wonderful book called The Night Circus by Erin Morgenstern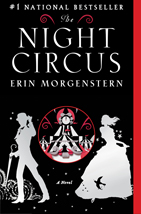 It was recommended to me by some co-workers. I was hesitant to read it at first because I thought the cover image and title made it seem like dark and creepy story (not my thing.) I am happy to say that I was proven wrong. This story is like reading a dream.
The Night Circus is about two young magicians who are bound to competition that they do not understand. The venue for the game is the Night Circus. A circus that arrives without warning, a circus that is completely black and white, a circus that is only open from dusk till dawn. As the story progresses the competition becomes more complicated then either one of them had ever imagined. Choices have to be made, choices that could have very terrible consequences.
This book pulled me in. When I wasn't reading it, I was thinking about it, wondering what was going to happen next. Erin Morgenstern does such a magnificent job with details that I could create a beautiful image in my mind of the sights, sounds and smells of the circus.
If you're looking for a story to carry you away, The Night Circus will not disappoint.
Note: This post was originally published on my old blog www.cherishedgrace.blogspot.com I have done some editing between this post and the original. Seeing as I don't use that blog anymore I decided to publish it here so more people could read it. Plus, I love this book so much it's worth two posts for sure.